In early 2013, I was approached by a family friend with a commission proposal. This request surrounded the creation of a piece that was intended to be presented and signed at "Auto Assembly" - the UK's premier Transformers Fan Convention - by none other than Dan Gilvezan, star of the original 1980's cartoon, as fan favourite character Bumblebee.
I was informed at this point, also, that Gilvezan was known for other characters from popular 1980's children's TV, and so I decided to make that my jumping off point.
I soon discovered that Bumblebee was by no means the only high-profile role that Gilvezan has to his name, as was alluded to. By taking the time to do some further market research, I found that he actually had a good number at his disposal. He starred as the hero of cult classic Dino Riders, Questar, as well as a primary antagonist of the legendary G.I.Joe, combat expert Beach Head. Most notable, however, is his amazing (pardon the pun) role as Spider-Man, in Spider-Man and His Amazing Friends, a short-lived show that holds a devoted fanbase even to this day.
I also unearthed that Gilvezan has found himself in a bit of a resurgence in recent years, focusing now on giving voiceover work for video games, in particular as Spider-Man's futuristic counterpart Spider-Man 2099, in 2010's Spider-Man: Shattered Dimensions. He has continued to lend his talents to the medium in the years since, even returning to his roots to voice Bumblebee once more in the Transformers: Devastation game, released in late 2015.
Having found all of these incredible and versatile characters - who were so both thematically and visually - in Gilvezan's repertoire, I couldn't bear the thought of limiting the commission merely to the character of Bumblebee. A career history so populated with wonderful characters deserves to be celebrated, and this - going forward - was my wholehearted intention.
From the get-go, I knew the piece was not going to be a particularly technical one in terms of software usage, but more in terms of raw drawing skill. My plan was to draw out and ink an individual character one-sheet for each of the five I had selected, before then digitising and colouring them.
The first step was to find decent inspiration in terms of the visual style I wished to go with for each character. This proved more difficult for some than others: for instance, there are far more pictures and drawings out there of Spider-Man, than there are Questar, I assure you.
Regardless, in the end, I managed to get enough of an idea of what I was after, and eventually wound up with five separate sketches, which I then took the time to ink by hand.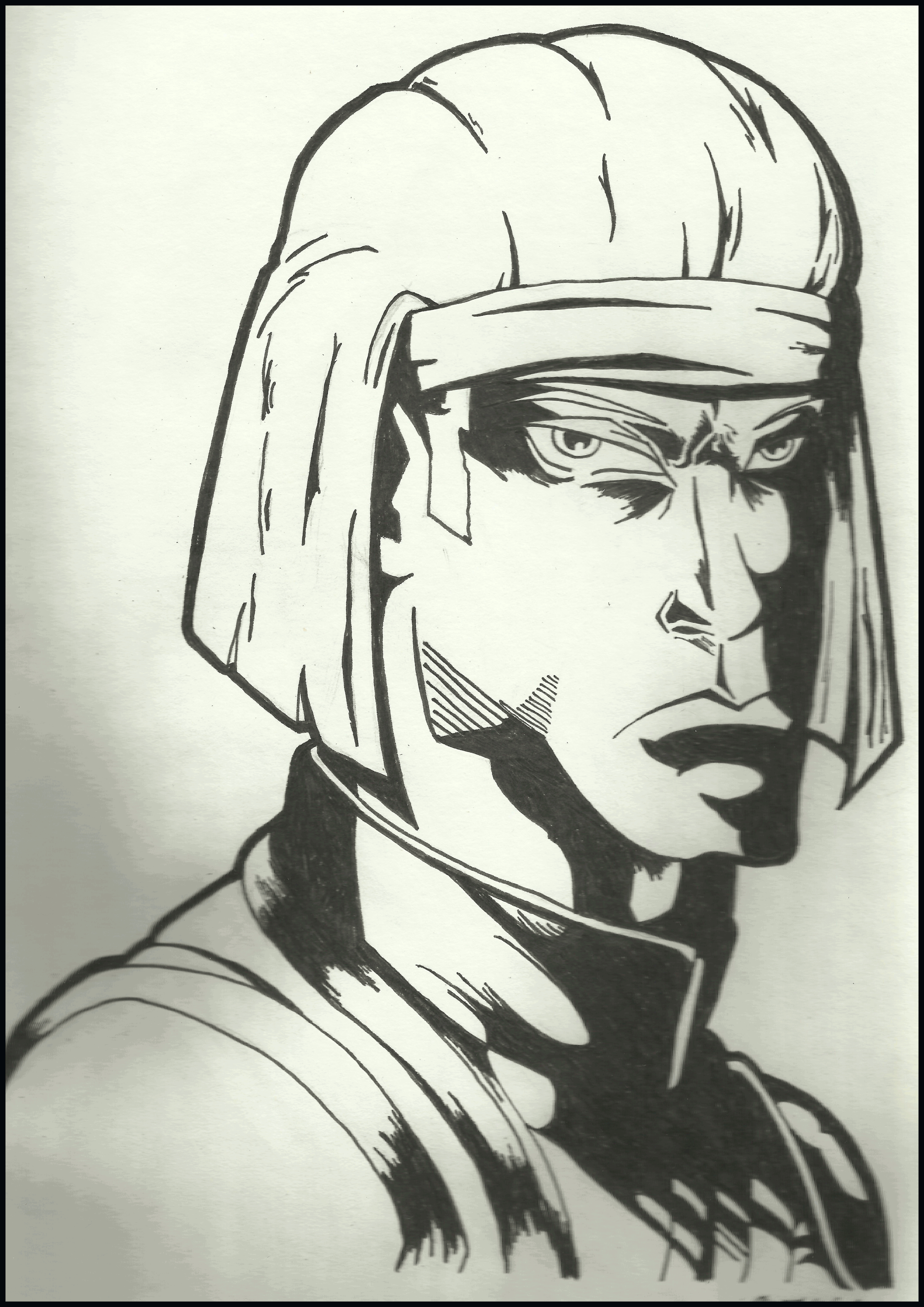 After the images were completely inked and removed of any pencil marks, I fed them through a scanner and digitally rendered them in Adobe Illustrator. This process involved making the image into a vector image, first of all - not only to flatten out the blacks I had defined in inking, but to also allow the design to be scaled to whichever size I deemed necessary.
Following this, I booted up the old Tablet & Pen and began the colouring process.
My particular method may not be the most streamlined, or indeed easy, but I do find that it was particularly effective on this piece. Having vectorised and expanded the drawings on Illustrator, I was able to quickly and effectively remove all white colour from the image, leaving only the black ink outline, and a non-existent background. Adding a new layer, and placing it below the "Outline" layer, I then began using the Paint tool to fill in, almost like a colouring book.
I created up to three colour layers for each of the illustrations - one for the base colours, a second for shadowing and darker patches, and a third for highlights and lighter patches. Doing each of these on separate layers allowed for more control over placement of the colour patches, and to switch between seeing the final products with and without shadows/highlights, for the sakes of evaluation and comparison.
One all five were finished, I saved the files, and imported them into Adobe Photoshop, where I added small touch-up jobs - including the flare effect on Bumblebee's metal chest - before then composing the entire ensemble together into a singular, dynamic piece.
You can check out all five of the individual illustrations in their final digital forms over on my Illustrations gallery!
With the final composition completed, the digital files were emailed to my client, as they kindly offered to cover the printing worries, as a reward in its own right for my work. A mere few months later, in August of that year, I came home to find my inbox fresh with a few heartwarming messages and shots from the convention, including those of my work, printed and signed by the man himself, with assurance that Gilvezan was in awe of the piece.
This commission was a relatively simple one in terms of its requirements; but the subject matter, market research and creative methodology used proved to be one of my favourite to tackle in my time as a freelancer, even through until today. Having a respected voiceover actor for some of your childhood heroes praise the final result always is a bonus too, I suppose.
Skills & Software:
Pen & Ink on Paper / Adobe Illustrator / Adobe Photoshop